Natural Opal
Natural opals are those which have not been treated or added to in any way by mankind, other than by cutting or polishing. Natural opals are usually described as light, dark/black, boulder, and matrix. Although boulder opal has an ironstone backing, it is regarded as a solid natural opal because this backing occurs naturally.
Black/Dark Opal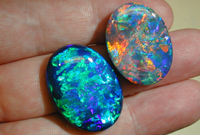 Black opal is a generic term given to any opal which has a dark body colour when viewed from above. "Play of colour" within a dark or black body colour will enhance the brilliance of the colours. Some have a transparent crystal colour bar overlaying dark opal, giving the otherwise light opal a dark appearance.
Black opals range from opaque to transparent crystal colour bar overlaying dark opal.
Light/White Opal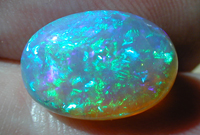 Light Opal is commonly referred to as "white", although this term should be used only where the body colour is milky or white. It should not be used to describe the entire light opal family. Light opal makes up the bulk of precious opal and comes from all fields but the majority is found in South Australia. Brilliant light opal can be extremely valuable. The transparent material (crystal) variety commands the highest price.
Boulder Opal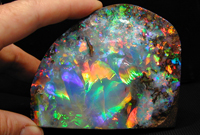 Fine grade boulder opals have the top surface covered with precious opal. Slight marks and protrusions of ironstone in the face of the stone are fairly typical, and can affect value. Boulder opal is usually cut to the contours of the opal vein creating a baroque wavy surface and they are often irregular in shape. The most expensive boulder opals are those with a dark body tone and displaying a full face of brilliant precious opal.
Boulder is a variety of precious opal that forms naturally within the host rock, often just a thin vein of precious opal is present. It mainly occurs in specific locations over a wide area of Western Queensland, formed as the in-fillings of cracks or voids, usually in ironstone boulders.
Boulder opal can be black or light depending on the appearance when viewing from the face of the opal. The popularity of this type bas soared since the mid-1970s. Boulder opals are invariably cut incorporating the host brown ironstone. They are in high demand' and can be extremely valuable. A variety of boulder opal also occurs in Andamooka, South Australia, where the host rock is quartzite. These are referred to as "painted ladies".
Boulder Matrix Opal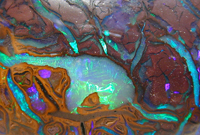 Veins or patches of precious opal intimately mixed with the host rock are referred to as boulder matrix opal. Matrix opal increases in value with brilliance and as the quantity of precious opal becomes a higher proportion of the face of the stone.
Fine boulder matrix opal often has attractive banded ironstone or patterns. Sometimes the opal forms in a central kernel within a small boulder. These are known as 'nuts' and are commonly found at the Yowah and Koroit fields.
Treated Matrix opal
Sometimes porous types of sandstone matrix with opal distributed in tiny pores can be enhanced by impregnating with carbon. The treatment often involves heating the stone in a solution of sugar and sulphuric acid. This type of material can be found at Andamooka and in Queensland.
Composite Natural Opal
Composite opals comprise natural opal manually attached to another substance. Triplets and doublets are a combination of natural opals and artificially attached veneers. It is important not to submerse composite opals in water or detergents as this could cause deterioration of the glues used to cement the lamination.
Triplet Opal
A triplet opal is a thin veneer of precious opal bonded to a black backing with a protective crystal dome glued to the top.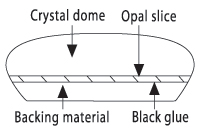 Doublet Opal
A doublet opal is a layer of precious opal bonded to a black backing, simulating black opal. Doublets are usually more expensive than triplets because more opal is used.